The Sarena Bay is the world's first curvilinear hot tub. Unlike ordinary, square hot tubs, its patented design will add an eye-catching centerpiece to any backyard retreat. A pair of "his and her" UltraLounges each equipped with a programmable Dynamic Massage Sequencer and patented Jet Therapy pillow, offers a full body massage. Up to 8 people can enjoy the soothing lighting FX, bubbling fountain and the cleanest water in the industry with UltraPure PLUS.
Specifications
Primary Specs
500 Gallons (1893 Liters)
Additional Specs
Dynamic Massage Sequencer

Electrical North America/Asia

50 HZ : 240V, 2×16/1×32/3x16A

60 HZ : 1 x 3.6/(2.0) HP Dual Speed Pump and 2 x 3.6/(2.0) HP Single Speed Pumps. 2 Circulation Pumps

50 HZ : 1 x 3.6/(2.0) HP Dual Speed Pump and 2 x 3.6/(2.0) HP Single Speed Pumps. 2 x Circulation Pumps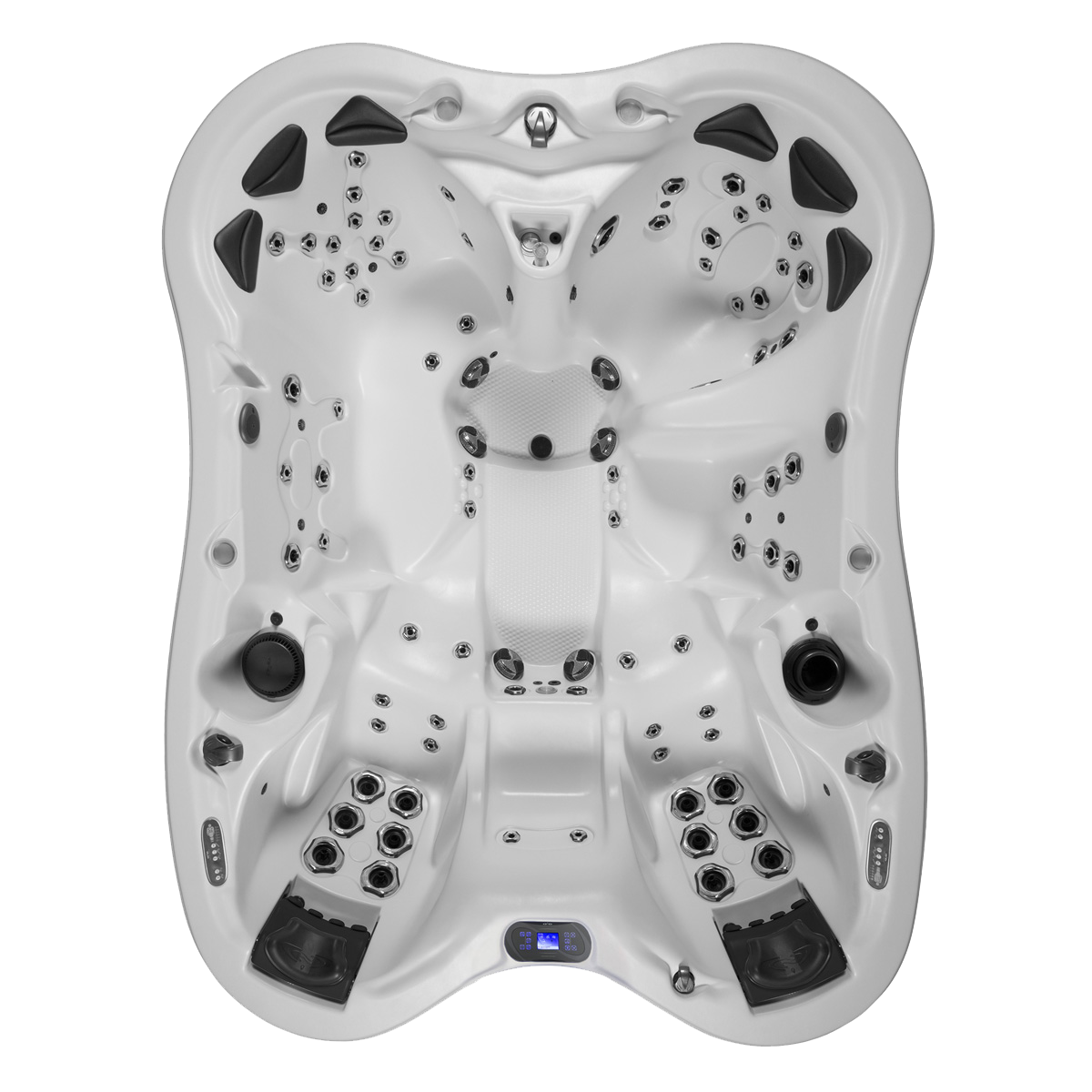 More Details
UltraPURE® PLUS
UltraPURE® PLUS water management is the most advanced, UL-approved water purification system in the industry. This dual system allows for jets and pumps to work in harmony, so you'll never have to sacrifice jet performance while cleaning your water. This patented system builds on UltraPURE® by introducing ultra violet light to the equation. Together ozone and UV light are unstoppable. UV light comes in contact with 10,000 gallons of water per day, meticulously neutralizing any remaining impurities. Enjoy clean, pure water and peace of mind. This system can be found on the Bay™ Collection.
Accent Jets
Say goodbye to slippery underwater jets and say hello to personal control. D1's Accent Jets can adjust and interchange with a simple twist motion for a customized massage. These jets also feature a patented, contemporary shape unlike any in the industry. The Typhoon Jet, located in the footwell, provides high-volume performance that targets key trigger points in legs, calves and feet.